The last week of our project coincides with our exciting activity of cooking outdoors on a 'real fire'!
It is our last week with our older volunteers Pat and Sheila and our project lead Kay. The children are aware it is their last week at the forest; they have shown an immense amount of engagement with Pat, Sheila and Kay, they ask them to come and visit them in 'their nursery', they show them friendship, strong connections and how much they have made positive relationships with them.
At this stage of development, children don't understand the concept of possibly not seeing them again, or time frame, they think and believe they will… sometime soon. As Early Years practitioners working with the children every day, this relationship with the volunteers is something we now have to think about maintaining for the children, even if periodically.
We celebrated the end of 6 weeks with important forest school learning; shelter building, firewood collecting, making a fire, health and safety, food preparation and of course cooking!!
We also had two planned activities:
Leaf identification wheels
Crafting witches broom sticks
The children were ready and raring to go and as always, there are those natural investigations that take over our adult planned activities. Most important are the children's own interests, following their investigations brings about strong enquiries, collaboration and knowledge covering all areas of learning.
We arrive to an area of the woodland in Heaton Park which is most suitable for a camp; the children love this area as it has a huge hill (The Mountain). It offers great challenges and teamwork.
First and foremost the children 'listen' and engage with the adults to prepare a space for the fire and to build a shelter in case of rain today!
Here the children are debating where to have the 'fire circle' and how to create it, we have strong leadership, good negotiation and positive ideas for how they can work together and which type of tools will help to move away leaves. Whilst some of us are working on the camp, activities are also beginning…
The witch is always on our agenda or is highlighted by the children as we move through the woodland. This week Sheila found the witches broom in another part of the woods and it had been topic of conversation on our walk to camp. It was agreed that it was best left where it was - 'don't want to upset that witch!'
Some of the children decided they'd make their own broomstick with Sheila… and Sheila, once being a Girl's Brigade Leader, (just one of her many talents!) has wonderful knowledge that she shares with the children as to what resources are in the woodland to make fabulous, strong broomsticks. They ask Sheila's advice about what shape and size of sticks are most suitable as a broomstick handle, and check with her that they have the best finds!! And there's no need for string… nothing better than the strong twine of Ivy to tie the twigs to the stick!! Look at our wonderful broomsticks.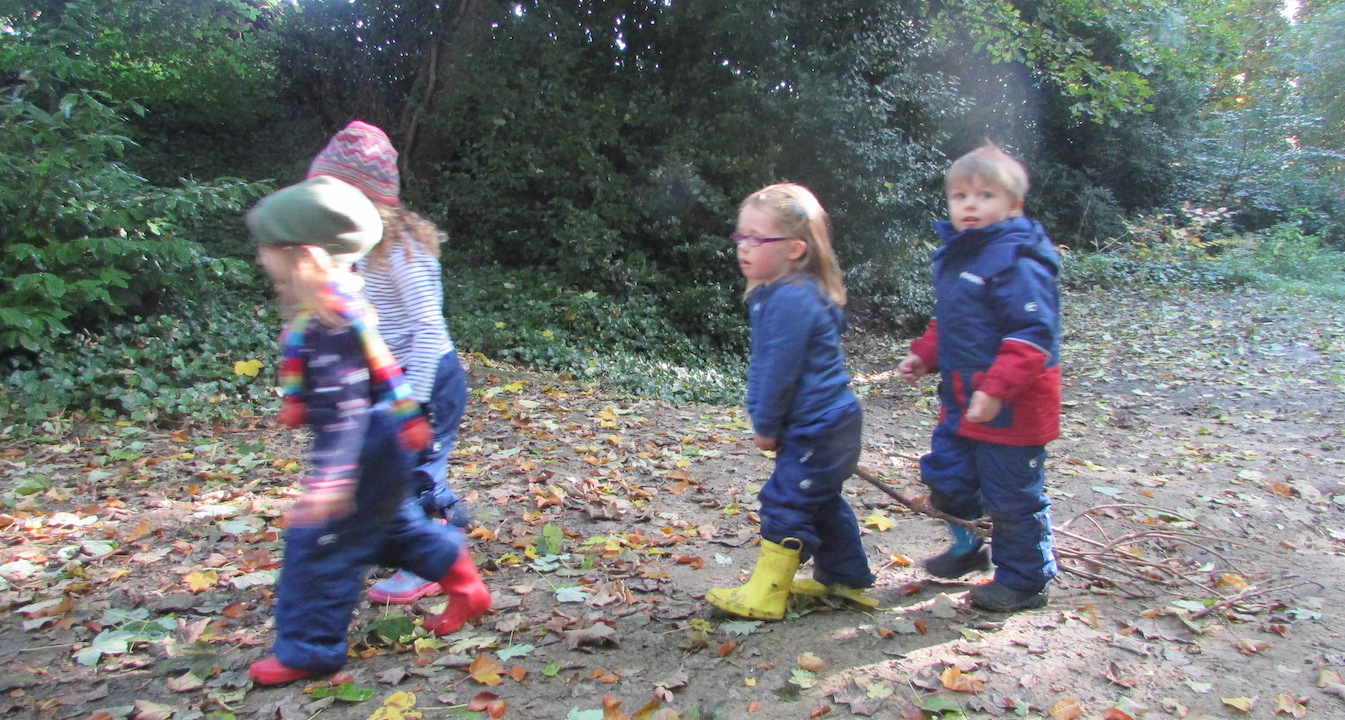 Whilst the witch's broomsticks were being made, some of us thought about collecting sticks for the fire and preparing food. Pat helps the children find 'firewood' and then actively supports and encourages the children to help prepare the food to cook. Pat, being as lively as she is, soon has many hands wanting to help her with the food. Her many years as a teacher and her love of supporting children finds her at their level, helping them to knead the dough for pizzas and stuffing fruit with a variety of different fillings, 'yummy!!' The children love being involved with creating lunch. The basic steps of food preparation engage children in a love for food and there's no greater satisfaction than actively participating in the scientific process - from the peeling to the chopping then the cooking on the fire to the hand and the mouth - mmmAmazing!!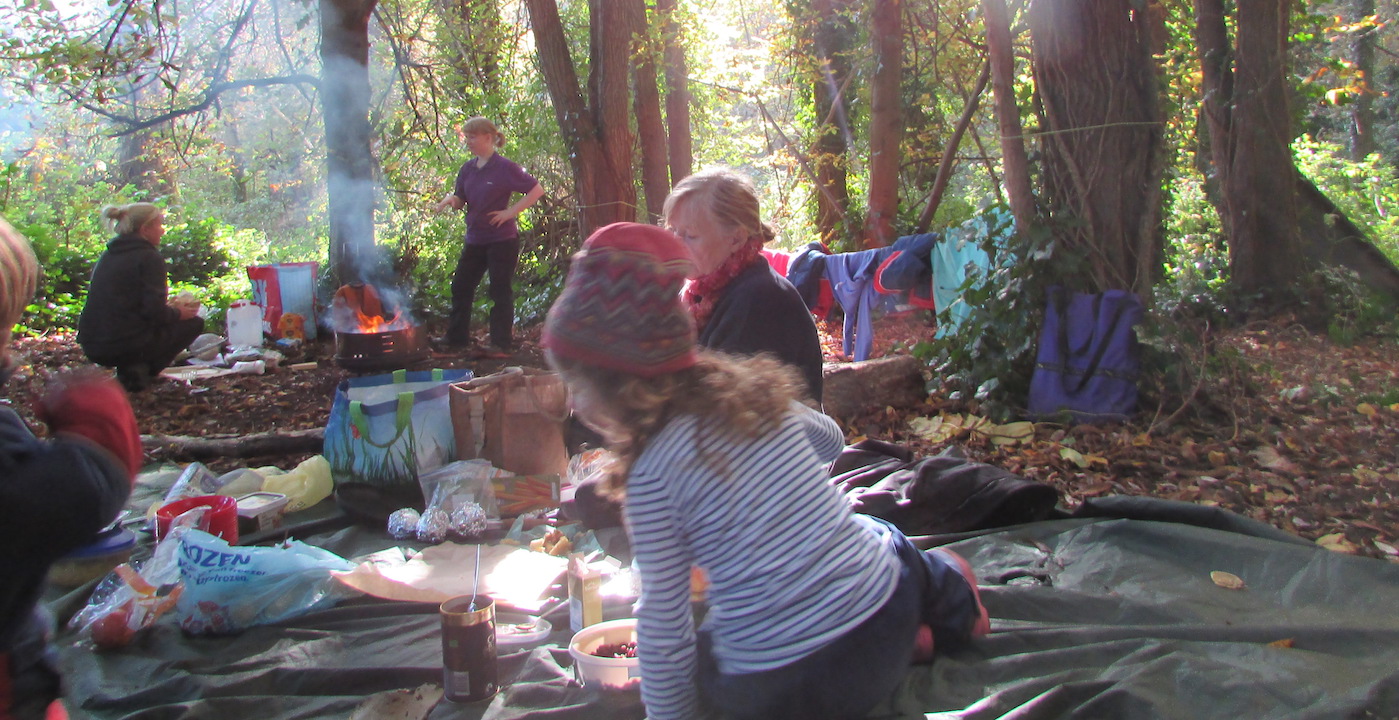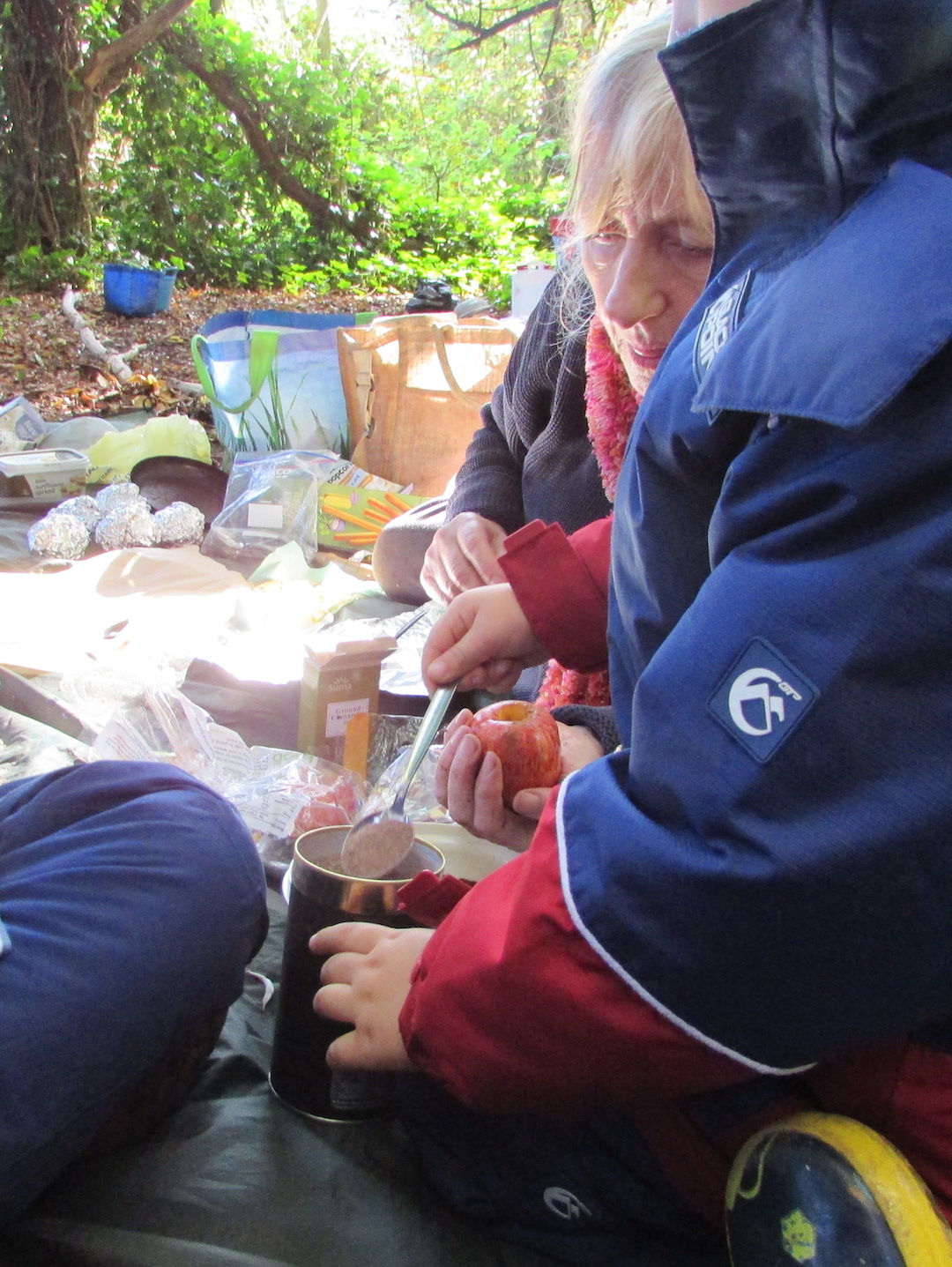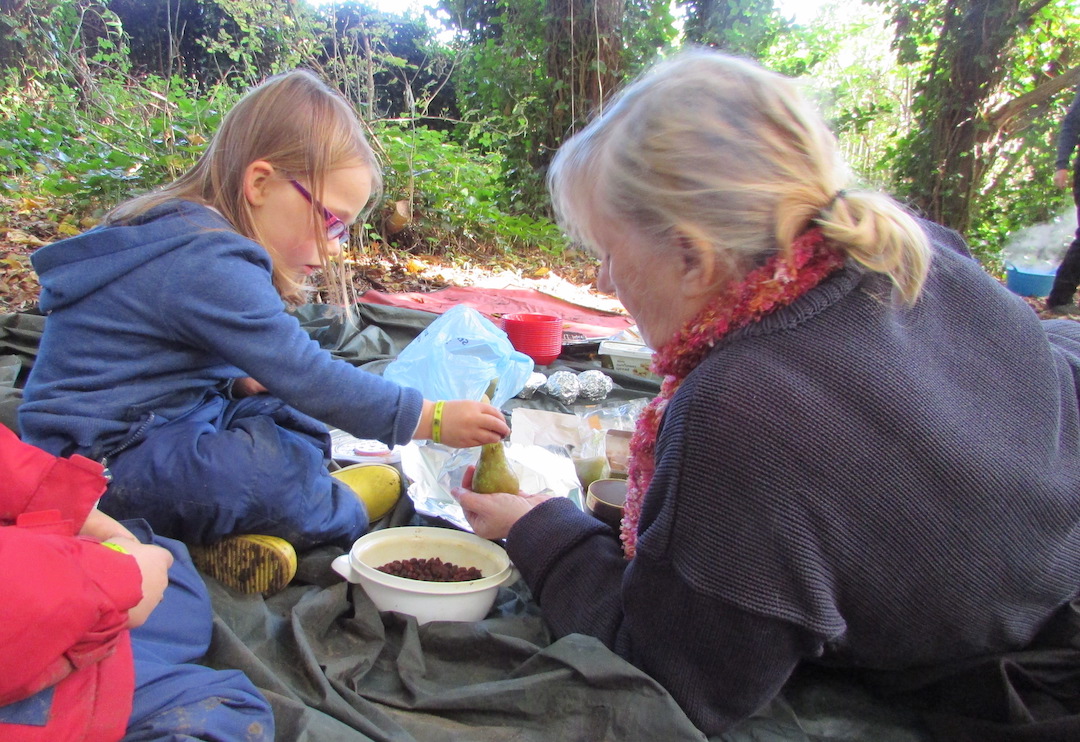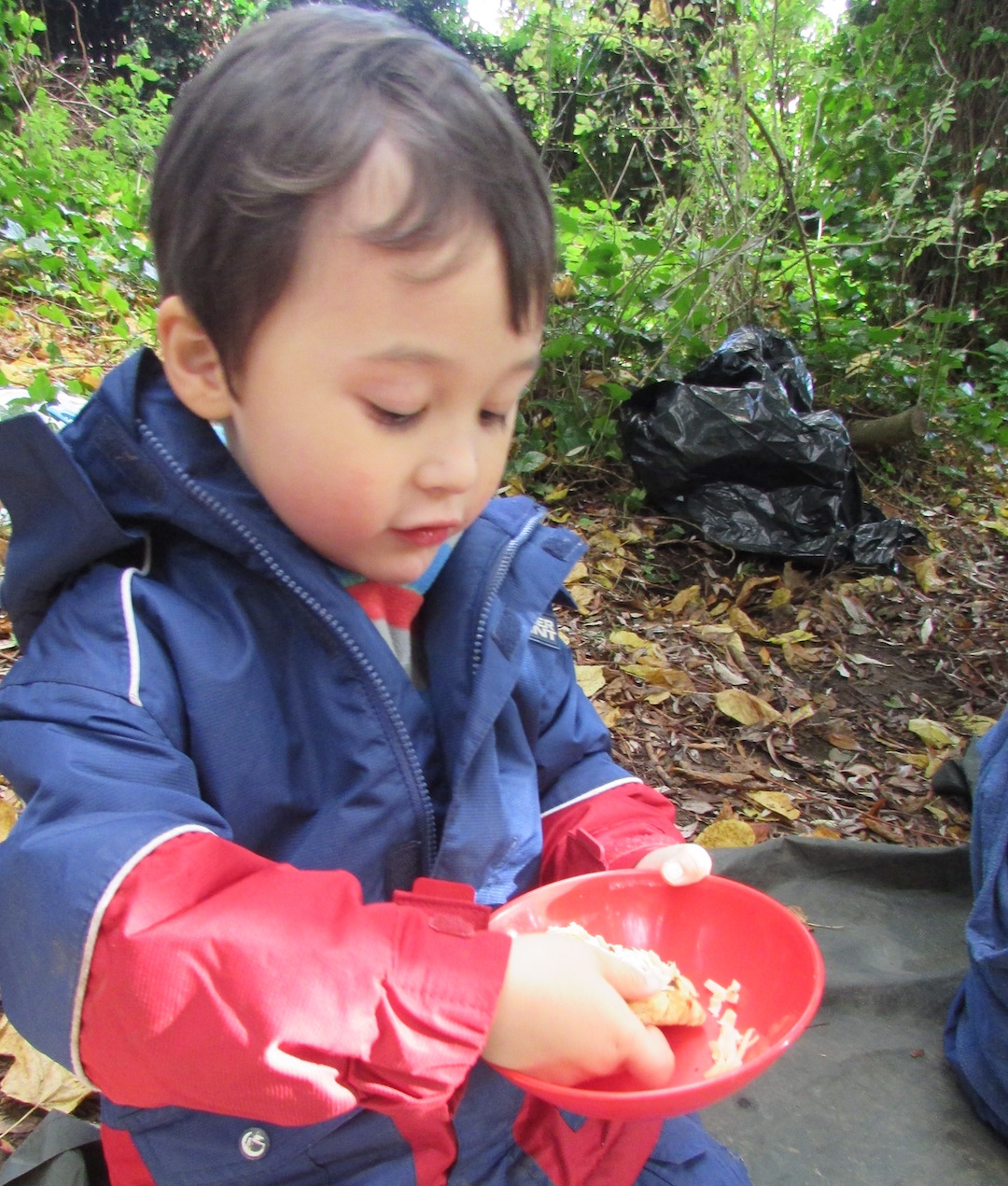 'An easy recipe for prickly pears' - Core the centre, pack it with sultanas and raisins and a level spoon of Green & Blacks Organic hot chocolate, wrap them individually in foil and… leave to bake on an open fire outdoors - mmmm!!'
Even nicer with a warm cup of hot choc!!
Before and after lunch the children had been engaged in their own investigations and projects, the photographs offer a display of the many learning opportunities offered by the woodland. Please look at the engagement and if you're a parent of the children involved, please do let us have any questions or feedback once you and your child have shared the photographs.
It has been a valuable educational experience for us all - 3 and 4 year old children, Early Years Practitioners, our volunteers; Sheila, Pat and Kay, working together as co-researchers has been an inspiration. Shared knowledge and experiences between young children and supportive adults of different generational place working together, has offered an amazing insight into strong benefits children gain when sharing their enquiries with adults at different stages of life. In particular, being based in the woodland area oppose to the restrictions of a building, allowed for time, space, patience and rich language experiences as well as positive relationships, supporting all areas of learning for all.
An unexpected find in the woodland of Heaton Park made the end of our 6 week project complete!
'The icing on the cake' - The Park Rangers and volunteers were creating small blocks of wood from coppiced trees to sell as firewood for the winter period, on sale at the visitors centre in Jesmond Dene. The children had been sawing wood earlier with their own real tools, but they were in awe watching 'the crème de la crème' in action:
Our involvement with Kay in the research of this project and documenting the learning is ongoing, this was a participatory research project, and further information will be shared in the coming months.